Have you got a great for an idea for an online course? maybe in your particular niche market or a new one.
Research firm GM Insights valued online learning at $165 billion in 2015. By 2023 it could exceed $240 billion.
But how much can you really make with an online course?
Online courses are a great way to generate some money, develop your personal brand and learn new skills along the way.
Take Graham Cochran, who teaches music production and pulls in up to $75K a month.
Or Purna Duggirala, who even back in 2014 made a cool million in a year. How? Teaching Excel.
Joseph helps novelists write their novel with Scrivener. And he makes about $20,000 to $30,000 a month doing it.
Like all good ideas though you might want to your idea before you develop a full course. This is the lean way of doing things comes in.
What is lean? The lean methodology was popularised by Eric Ries, author of perhaps the most influential startup business book of the past decade, The Lean Startup.
In the book, Ries highlights some concepts which he believes are central to the success of startups.  In its essence, it can be boiled down to the concept of innovation through repeated, experiments that are validated by data e.g. purchases. All startups are prone to the uncertainty of whether their product or service fits the market.
The lean startup method advocates creating a product that meets the minimum requirements and then test it in the market. Whilst this approach won't necessarily work for complex services or products, e.g. a jet engine or a luxury spa hotel, it is a good fit for simple digital products and services.
Why You Might Surprise Yourself
#1: You Already Know Stuff and Can Be the Expert
If you already have a special skill or expertise, you can "be the expert" and share that knowledge. Teach what you know.
#2: The Learning and Curious Novice
You can be the "curious novice" and teach as you LEARN yourself. Here's what I mean…
Choose a topic you're interested in. Spend time and learn about a subject…develop and answer the questions everybody has when they start from scratch.
You are now enough of an expert. You will soon know more than 99% of people who are going to buy your course.
The two things to test then are:
You have a topic that you're passionate about
You can make money teaching it
The BIGGEST mistake new course creators make.
They create a course, but they don't make sure students actually want to learn about the specific topic they chose. No wonder they struggle to attract students!
How To Test A Course Idea
If someone already created the course you want to create, that's GOOD NEWS!
That means there is a market for your idea. Remember very few markets have just one supplier, there are lots of ways to offer a different angle or slant.
How to develop your course idea:
Look at questions people ask about or want your advice on.
Take a list of the things your clients struggle with most and ask you questions about all the time.
Find the problems and pain — and solve them. This means going out into the real world and finding problems that people have. Then, you can create an online course that solves those problems.
People buy courses because they've got a problem – and they want to solve it.
How To Create a Lean Course – Test The Idea
The main principle of lean is to develop and test a concept in the real world quickly and then adapt it to get the right fit for the market. This involves considering things like the number of features, pricing and defining the customer.
When considering developing a lean course your goal is to test not only if there is a demand for it but will people pay for it. Anybody can give stuff away for free, but you need to get your target audience to buy your course. A further financial consideration is whether you can afford to market to your audience.
People tend to forget that you need to get the attention of your target audience in order for them to know your brand/product exists, then convince them to view it and then buy it. That involves advertising. Whilst social media posting can get you some attention we're assuming you are starting from scratch and therefore won't have many followers.
So how do you test your idea?
#1: Create a Free, Mini Email-Course
Simply create a mini-course, and deliver it by EMAIL.
The best part? If you do this, you're not just validating your idea, you're also building an email list of future students for your PAID course at the same time.
You can use a platform like Zippycourses to start collecting emails.
#2: Pre-Sell Your Course
What if you could sell your course before you create it?
You can create a sales page and ask people to "apply to buy"
#3. Survey your audience before you create your course
This step is important because it helps ensure that you create a course that people actually want to take. If you have an audience (from a blog, podcast, email list, social media, etc.), send them a survey to ask them what topics they are interested in learning about. Create a course based on what they want, not on what you want to create.
Including your audience in your course creation process is also a great way to build anticipation for your course before you release it, plus you validate the demand for your course topic before you invest any resources to create it.
#4: Create Your Course (The Quick Way)
Your first online course won't look that great, and that's okay.
Don't compare yourself with people that have already tested their idea, generated money and produced a better quality course.
You're at the beginning and that's ok – you're testing your idea. Use a platform to start with like ZippyCourses to start and then progress to your own website.
You just need to produce a good course structure and shoot the videos.
Here are some useful tips:
Pricing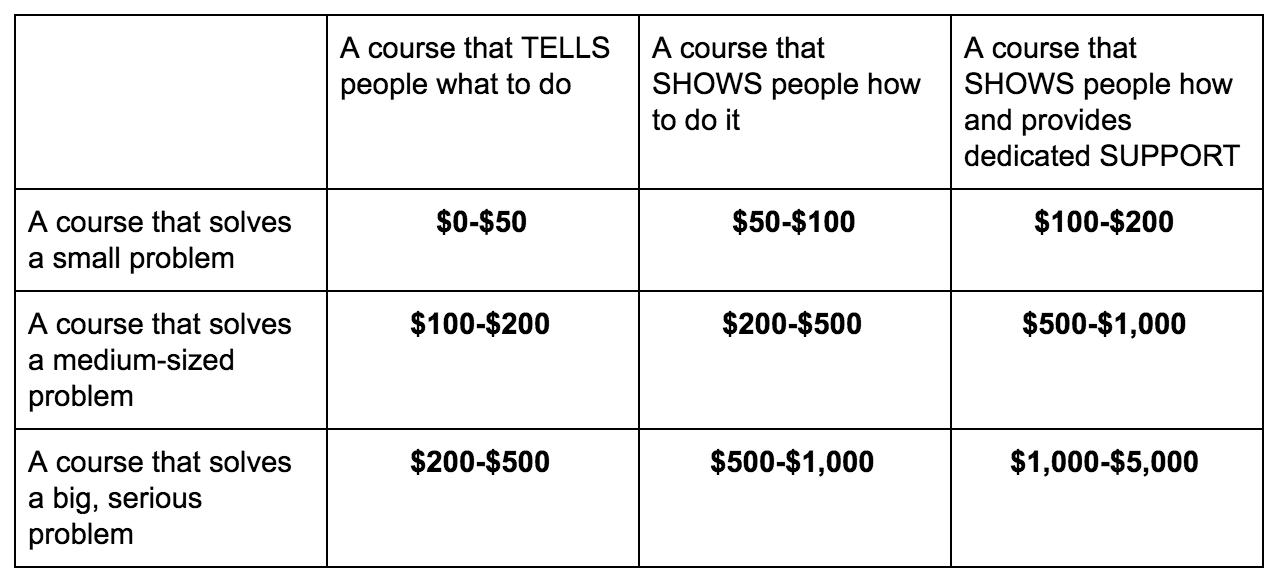 Summary
Perfection is the enemy of your ideas and initiatives to create money. So get around that by developing and checking to see if your idea by testing it. Once you have proved there is demand, and valuable feedback, you can quickly build a course and start to take it to the next level.